ROBERTO HERRERA
Director – Choreographer – Dancer
Roberto Herrera is part of  the history of tango. His style of dance and his choreographer skills are universally recognized. In his tango, tradition, innovation and experimentation are mixed in n unique  form.
His work has strongly influenced either the traditional tango than the most current forms of this artistic expression. First dancer of the Ballet Folklorico Nacional Argenetino, directed by Santiago Ayala "El Chúcaro" and Norma Viola.
Main dancer of the Great Orchestra of Maestro Osvaldo Pugliese,  Protagonists of the movie "Tango Bar". Choreographer and dancer with Julian Plaza, author of famous tangos and milongas such as "Danzarin" "Payadora" and "Morena".
He participated in "Los Grandes del Tango Argentino" with Orquesta "Color Tango" in Japan. In 1991 it integrates the show house "Michelangelo", with Raul Lavie, the Sexteto Mayor, Adriana Varela and Roberto Goyeneche.
In 1993 he joined the cast of the biographical film "Grazie Maestro" on the life of Osvaldo Pugliese.
Between 1994 and 2000 he was the creator and director of the show "Tango, una historia", at the legendary bar "El Querandí". In 2000 it is part of the iconic "Tango Argentino" show, directed by Claudio Segovia, presented for two months on Broadway; in the "Gershwin Theater" New York Authoritative juror in all the editions of the Tango World Championship in Buenos Aires. Director of "Tango" with the music of "Decarísimo Quintet" (directed by Ariel Rodriguez), with more than 4000 performances all over the world.
Founder of one of the most famous Tango schools in Buenos Aires, "ROBERTO HERRERA ACADEMY"
Art director of the School of Tango House Cambalache in the Palazzina Liberty in Milan since September 2013, ROBERTO HERRERA ACADEMY EUROPE
Author, choreographer and dancer of the show "Tango di moda e una Passione" event in the week of "Milano Moda Donna", held on 23 September 2013. In 2015 he opened the works of EXPO with the show "Malambo Argentino"
In 2017/2018 with his Roberto Herrera Tango Copany presents " El Tango" with more than 300 performances around the world.
LOS GUARDIOLA MARCELO GUARDIOLA (Arg) y GIORGIA MARCHIORI (Ita) "by a show of Marcelo Guardiola and Giorgia Marchiori it comes up with an open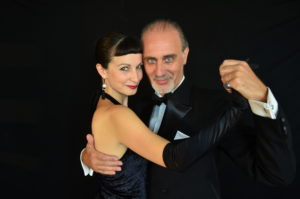 mind and heart crushed. The extraordinary sensitivity and talent of the two artists allows them to get every time straight to "the point" and the heart of the spectator: the only ones who can present their works, Marcelo and Giorgia Guardiola are two artists with the precision of mimi, the grace and poise of the dancers and the puppet extraquotidianità, to tell your body what you aren't allowed to say the words , in harmony with the whole thing, the result of a daily work, in a process of research and experimentation along a life ". Carlo D'Andreis
leading contemporary artists of tango, Marcelo Guardiola and Giorgia Marchiori, artistically known as "Los Guardiola," are one of the most popular and original cups: their shows have come the theatres and festivals around the world. Marcelo Guardiola is an actor, dancer, musician and theatre director. Born in Buenos Aires, created in 1999 the theatrical research "TangoTeatro", which is to stage a new form of entertainment that combines music, dance and poetry of tango. Giorgia Marchiori is a dancer, choreographer, actress and doctor of philosophy. In 2003 he began his artistic collaboration with Marcelo Guardiola forming the duo "Los Guardiola" whose originality is tells King stories through the Union of MIME and dance. In 2004 in Buenos Aires, for their work as tango dancers, received the diploma of honor "Nueva Generación". For the typical and original use of tango in the theatre, Holstebro Festuge in 2011 form part of the 8TH organized by the Odin Teatret and directed by Eugenio Barba. In 2016, the National Academy of Tango della Repubblica Argentina gives the sponsorship as "tango Artists who spread the culture of tango". Authors and performers of all their shows, in 2016 debuted with their latest creation "Los Guardiola Tango Show" in the famous Maipo Theater in Buenos Aires. They brought their art without words in the following countries: Argentina, Brazil, Chile, Denmark, France, England, Italy, Spain, Russia, Slovenia, Switzerland and Qatar.
http://www.tangoteatro.org
ALBERTO COLOMBO (Ita) y CELIN RUIZ (Fr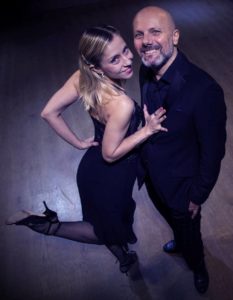 a) Alberto Colombo begins to take an interest in tango in 1993, in parallel to the study of dance theatre with Silvia Was In 1996 made the first of many trips that will make in Buenos Aires. In one of these stays was invited to participate in a study group formed by Gustavo Naveira, Fabian Salas and Chicho Frumboli, in order to deepen the research of new dynamics in the improvisation. At the same time knows Teresa Cuna, with which he created a series of works in Europe. This meeting is decisive for Alberto, allowing it to enrich much your own dancing.
In later years he worked with different dancers, Moira Castellano, Cecilia Gonzalez and Claudia Jakobsen. Since 2001 she dances with Alessandra Rizzotti, which will work for 8 years and in festivals in theaters, and becoming more and more an important reference in Italy.
In 1994 he inaugurated the first Milonga in Milano (Italy), still exists, and now boasts a rich history and tango, which has seen the most important dancers and DJs, and which have formed several generations of passionate tango. From 1999 to 2004 is part of the French company Quat'Zarts in Valser, realizing performances in the most important European theatres. Since 2009 begins their artistic collaboration with Mariela Sametband and, for four years, working at major international festivals, including the festival of Buenos Aires, where he travels more and more often, to dance, to perform and teach. In these 20 years of work he danced in numerous festivals around the world, taught, worked with dancers and artist of great depth, which allowed him to refine teaching dance, because he never stopped studying, and to confront the most important artists of this wonderful dance. Speak, and can then teach in Spanish, French, English and of course Italian
Celine Ruiz
Choreographer and tango dancer well known for her interpreter qualities, she participated to various international festivals (Buenos Aires, Séoul, Paris, Rome, Seattle, Istanbul) and shows including "Tangos Clasicos" at the Théâtre National de Chaillot in June 2008.
In 1999, he met Damian Rosenthal, an Argentinean dancer, who has been her dance partner for 14 years,  working in various countries such as:  Europe, United States, Asia and Buenos Aires.
Céline Ruiz has been part of numerous dance companies (Union Tanguera, All That Tango Dance Company, Compania Argentina). In 2005, she collaborated with Richard Galliano in "Bouffes du Nord", for the release of his double live album.
In 2009, he founded together with Damian Rosenthal, his company "Not Tonight", creating the show "Tango, Pulsacion n ° 1" in which they join Argentine Tango, theater and video.
Since 2010, he has performed regularly with the orchestras Tanguisimo et Tanguarda. Since 2014, he has worked regularly with the Italian dancer and choreographer Alberto Colombo, both in France and abroad.
MARCO PAL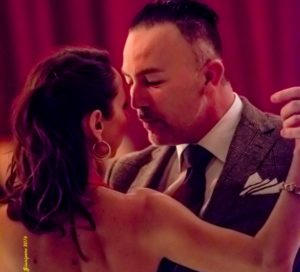 LADINO  born and lives in Milan the 11/07/73.
Her career began dancing in various disciplines of dance sport. Approaches to Argentine Tango in 1996 with the best teachers. Italian Champion's Professionals A.N.M.B. 2003 and won the World Championship 2002 in Miami Beach Florida-USA. In August 2006 he was a finalist in the 4th Mundial del Tango 2006 of Buenos Aires for the categories "Salon" and "Scenario". Awarded by the Lombardy region CONES to the trophy "athlete of the year 2006" during the national award "the Conning Tower" for the Sport. Dancer in concerts of orchestras: "Estilo Tango" conducted by Argentine Daniel Pacitti; "Accademia Concertante D'archi di Milano conducted by Maestro Lawrence fan; "Tango Tinto"; "Quinteto Invisible"; "Quejas de Bandoneon". He devoted himself full-time to teaching and shows holding throughout the country. Preparer of professional couples and miserly levels, some of which have achieved national and European titles and are ranked finalists at the World Championships in Buenos Aires. From 2013 starts the coartistic llaboration with LARA CARMINATI.
LARA CARMINATI
Classical extraction dancer, she began dancing at the age of 8 years and comes close to Argentine Tango in 2008. In 2012 and 2013 èfinalista Italian Championships Argentine Tango for Salon category. He devoted himself full-time to teaching and participates in festivals and performances throughout Italian. Together they are event organizers throughout Italy, first and foremost international festival of San Pellegrino Terme (BG)