High cliffs broken by small very black sand beaches alternating with creeks and caves, the white Mediterranean houses, Palm trees, olive trees, citrus that rest above a rugged and fascinating volcanic cone secluded in a very intense blue sea. This is the Black Pearl that has always attracted lovers of untouched nature and relaxation.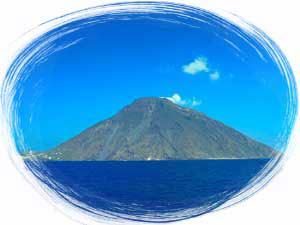 Stromboli island has an area of 12.6 km2. In ancient times, because of its shape, was called Strongyle (the spinner). It is without a doubt a particular charm and mysterious island, thanks to its famous volcano about 926 mt which dominates and is perpetually active, so that the island can be inhabited because the eruptive material is overthrown only at the Sciara del fuoco to the northeast of the island. The almost total lack of roads, wild-looking landscape, but above all, the looming volcan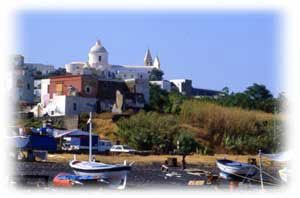 o that methodically recalls its presence with puffs of fire and lava, exercising on a strange and unique visitor attraction. Rossellini's film Stromboli (1950), which highlights the difficulties of living in a land so hard, the island remains one of the most fascinating and impressive.
"Iddu", an incredible volcano overlooking the sea, bubbling giving a show i
mpressive and unique that reaches its peak during the night with explosions and thickly in a starry sky launches lapilli in the background.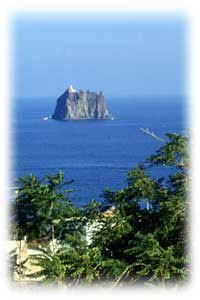 A mile from Stromboli a small volcanic islet, stands like a fortress and is the northernmost point of the region of Sicily. Rugged and uninhabited, Strombolicchio rises up to 50 m tall and covers an area of 300 m ². In 1926 there was installed a beacon for the navigation to reach through a scale of 200 steps.
How not to mention Ginostra, a small village in the South-eastern shore of the island accessible only by sea with only thirty to forty residents during the winter. The port, called the "pertuso" (the hole) because of its size, wedged between the rocks, paving the way for a steep staircase leading to the small urban area surrounded by a unique atmosphere of relaxation and peace.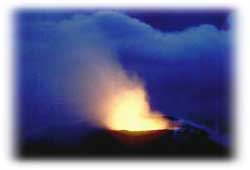 Ascent to the crater the vision of the eruptions is particularly striking in the dark: so the climb in the late afternoon and return at night (don't forget a flashlight). The hike to the top of the volcano takes about three hours of walking in some areas quite tiring, it is recommended then to good walkers, but since about 2 years after the famous eruption that caused the tsunami, the climb is only up to a point not considered risky.   Undoubte
dly the sea BEACHES is one of the main attractions of the island, if you don't own a boat, don't worry, there are countless places where you can relax on the soft black sand and enjoying the spectacular sea. Stromboli has great beaches but also of small and secluded coves. Old forge South Beach H
arbor is the large beach of Old Forge, an expanse of black pebbles under the slopes of the volcano. A unique landscape located in a small Bay where the peace and quite and the transparency of the waters are the protagonists. This site can be reached only on foot, embarking on a path that starts from the beach of Scari, located about 300 m from the pier, a paradise setting for those seeking peace and quiet. The beach of Scari n
ear the landing place is the large beach of Scari separate into two parts consisting of lava pebbles and from the pier. The beach, located in a strategic point just below the urban area of San Vincenzo, offers a unique viewpoint of Stombolicchio. The part North of the pier, in part, is intended as a stall for boats, the South, however, stretches for about 1 km until you reach the beach of Old Forge. The coast is bathed by crystal clear waters. The beach at Ficogrande
North of Scari instead there is the large beach at Ficogrande, the only equipped with catering facilities, umbrellas, deck chairs and a beach volleyball court, you will be in front of Strombolicchio so close that you feel like you can get at swimming. The beach, the busiest on the island, is composed of volcanic black sand and pebbles and is washed by a sea of deep blue. The beach of Punta Pun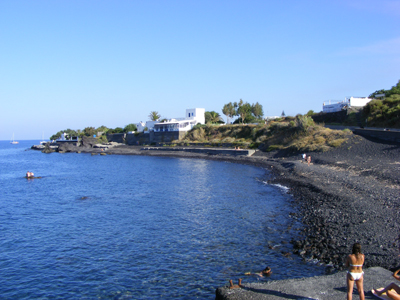 ta Beach Lena Lena, situated next to the beach of Ficgrande, gives a grey granite coast where the waters that bathe become blue color cobalt. You will find yourself immersed in a peace where the whistling of the wind and the crashing of waves on the shore will be the only sounds you will hear. The big beach of Piscità C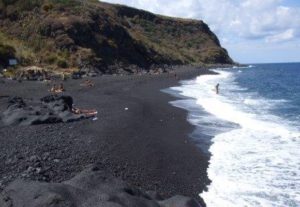 ontinuing northward, along a small road at the end of Ficogrande, you will find countless alleys that lead to the sea. Venture out and discover the volcanic black sand or Pebble coves separated from each other by ridges of lava flows. The road is marked by these coves to the long beach of Piscità, very crowded, at the end of which you will find a rocky part where tanning lovers can relax and enjoy the sea.   The pools of Ginostra Th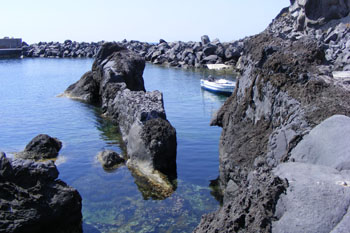 e Stromboli kiddie pools are located in the South West side of the island, along with the small village of Ginostra. Only accessible by sea, the rocks surrounding the air of the breakwater forming natural pools that give the sea a color ranging from emerald green to Indigo, a real spectacle for diving enthusiasts. Lazarus beach near Ginostra, through an old path overlooking the sea, approximately 15 minutes walk from the hamlet, we arrive at a beautiful beach. The beach is connected to the sea by a small slide that allows towing of boats in a cave which opens onto the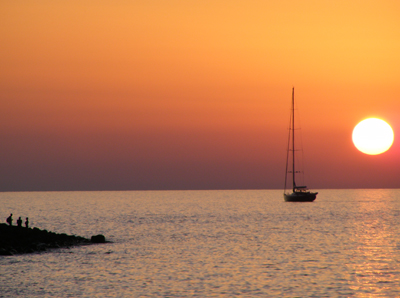 rocks. Large boulders, worn smooth by the erosive action of the winds and the sea, make up the beach. The area is known for the presence of a submarine bow making, for all lovers of diving, one of the most beautiful attractions of the archipelago.   https://www.youtube.com/watch?v=vxkRT7q-AY0